Stop Searching Through Emails and Digging Through Shared Drives for Training Materials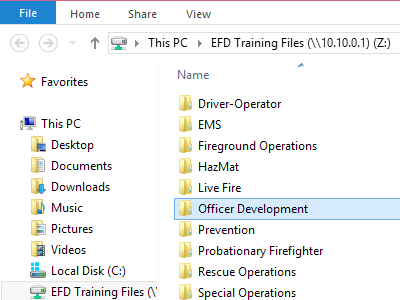 How much time do you and your personnel spend searching for an email sent two weeks ago, for a training session happening today? With Rescue Hub, your staff can easily find the training materials they need, and keep everything in one place.
Attach Training Materials Directly to your Training Calendar
With Rescue Hub, your training calendar is more than just a schedule. Your training material, documents, and video can be dropped right into a calendar entry, making it easy for personnel to find related documents without having to find an email that was sent two weeks ago.
Search by Keyword
Not sure when a particular training session is happening? Just type the name of the topic into the search box, and Rescue Hub will find what you are looking for, across all of your documents, training sessions, and training requirements,
Embed Skill Videos Without YouTube or Vimeo
Rescue Hub makes it easy to make your training more engaging, allowing you to create short skill videos and upload them directly into Rescue Hub. All of this can be done without using public video sites like YouTube or Vimeo.
Full Support for Specialty Areas and Disciplines
You can easily manage multiple specialty areas, so that your HazMat crews won't have to dig through the marine operators' materials to find the documents they need to do their job.
Training tasks can be assigned to groups of people who need to complete it. Your rescue technicians might have one set of requirements, and your driver/operators might have another set, all of which are easily supported with Rescue Hub
Ensure Your Personnel Are Completing "On Your Own" Tasks
With Rescue Hub's unique task-based system, staff can be easily assigned tasks to be completed at their own pace, such as reviewing a standard operating guide or a NIOSH line-of-duty death report.
As a training officer, you can create a task for reviewing a document, assign it to whoever needs to read it, and ask them to check a box that says "I did this."
If checking a box isn't quite enough to ensure your staff has actually read a document or watched a video, you can create a short quiz to ensure they have read and understand the material.
Front-Load your Hands-On Training with Introductory Material
Our tools will help you improve the quality of hands-on training, and give you more time to focus on hands-on practical training. Our clients use the online learning tools to front-load in-person training with introductory material.
When your crews can review training material in advance, they can walk into your hands-on drills better informed and ready to practice.